What is the size difference of miniatures, mediums, and standards?
Miniatures mature between 14 and 16 inches and weigh around 16 to 25 pounds; medium Labradoodles mature at 17 to 20 inches and weigh between 30 to 40 pounds, and standards are 21 to 24 inches and usually weigh between 50 to 65 pounds. It's important to note that the Australian Labradoodle is a young and developing breed and that the prediction of size is approximate only. We breed miniature and mediums as that is the size we prefer.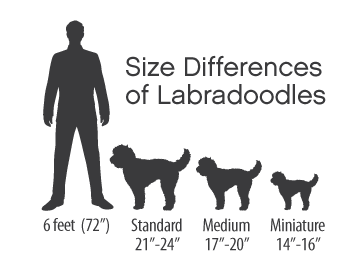 Do you allow visits to see the puppies?
Yes, we do. We wait until the puppies have had their first set of shots and then we are happy to set up visitation.
Can we visit your kennel?
While we welcome a visit, we do not have a kennel. All of our breeding dogs either live with us or they live in guardian homes. When a mother dog is ready to have her puppies, they come to stay in one of our homes until their puppies are ready to go home.
Can we come and pick out our puppy?
Yes, we allow you to pick out your puppy. We, of course, will have suggestions for you. Sometimes a family can come and pick out a puppy and they think a puppy is really calm and laid back when actually the puppy is tired. We've had weeks of watching the puppies, and we've gotten pretty good at matching puppies with the right families. The order in which picks are made is based on the order in which we receive your deposit. We reserve breeder's choice in every litter.
Can you ship our puppy to us?
It's very simple for us to ship a puppy to any major U.S. airport and the purchase price includes airfare, their flight crate and vet visit for their health certificate. We use pet safe flights and they fly in a climate-controlled cargo space. Our puppy price includes shipping to major airports within the U.S.. You can also fly in and carry your puppy home. We will gladly meet you at the Portland (PDX) airport, prepare the puppy for shipping and help you with the flight soft carrier.
What's included in the cost of my puppy?
All puppies are microchipped, spayed/neutered, up-to-date on shots and wormings and come with a two-year genetic health guarantee. They are registered and our vet performs a complete health check prior to going to their forever home. They are 2,800 which includes shipping to major US Airports. If you pick up your puppy, we deduct $300.
Is there a difference between the male and female temperaments?
No, not really. Both the male and the female Labradoodle make excellent pets. Because we early spay and neuter, the males don't usually develop some of their annoying testosterone-driven habits that people don't like. If that's the reason you don't want a male, we strongly encourage you to reconsider.
What kind of coats do Labradoodles have?
They can have a curly fleece coat, wavy fleece coat, wool coat (tighter curl, more like a poodle) or a hair coat (more like a lab than a poodle). Most of the puppies we produce have a nonshedding curly fleece coat or nonshedding wavy fleece coat. We very seldom (twice in 10 years) have a hair coat due to the much further Australian generational lines we have.
Are all Labradoodles nonshedding?
No. Some shed and some don't. The wool coat won't shed, and also requires the most upkeep of all the coats. The fleece coat usually doesn't shed and is the most popular of the Australian Labradoodle coats. The hair coat almost always sheds and is usually found in the early generation Labradoodles. We don't produce early generation Labradoodles. Most Australian Labradoodles have low to nonshedding coats, but be specific when you're buying your puppy. Let your breeder know your expectations and especially if you suffer from allergies. Special care goes into choosing the right Australian Labradoodle for you.
What colors do Australian Labradoodles come in?
There are many colors to choose from – Black, Chocolate, Cream, Cream with hints of Apricot or Gold, Chalk, Gold, Apricot, Red, Café, Silver, Blue, and Parchment. Reds and Chocolates can fade over time. Nose colors are rose and black.
Is the Australian Labradoodle a good family dog?
Yes, the Australian Labradoodle makes a great family dog. They love to play, they're nonaggressive and they're easy to train
Do Australian Labradoodles require a lot of training?
Because the Australian Labradoodle is such an intelligent dog, they do require training either by yourself (if you have experience) or a professional. One thing I've learned through training sessions is that a Labradoodle responds well to food and affection used in training sessions. One of our Labradoodles went to training and his owner complained that they were bored because he learned everything on the first try and then they had to wait for everyone else to learn. I'm a fan of private training where the dog can learn at his/her own pace. Another thing I've learned the hard way is that you can spend a lot of money on training and if you don't come home and practice it with the dogs and if you don't learn it yourself, you will have wasted your money. Training is a lot of hard mental work, but it pays off in the long run.
What kind of product do you recommend for cleaning up accidents on the carpet?
Nature's Miracle or Simple Solution.
Do Australian Labradoodles need a lot of exercise?
No, they don't. Every dog needs some kind of exercise every day. I recommend a 30-minute walk. You and your dog will both feel better if you commit to this. If you absolutely don't have the time, hire a dog walker. It can even be a kid in your neighborhood. If you have a dog park nearby, I highly recommend it. These dogs love to play with other dogs. But check with other dog owners first if your dog park plays nicely with others. 🙂
Throw the ball in the backyard. Try to spend some kind of quality time with your dog every day – even if it's a ride in the car.
What should I feed my dog?
Everybody has a different idea about what is the best food for their dog. While raw feeding is very popular, it just doesn't work for me; and several of my dogs don't like it. I have experimented with a lot of different foods and right now I am feeding our puppies Iams Smart puppy/chicken puppy food. I feed our adult dogs Taste of the Wild, but it is not available in all areas. Bottom line is you should feed your dog a high-quality premium pet food. Check with your vet or your local quality pet store for suggestions.
What should I buy for my new Australian Labradoodle?
We have a great puppy shopping list that we will send to you when you're ready to shop for your new puppy. We also have a 40-page document that we have developed over the years to prepare you for your puppy joining your family.
Where are you located?
We are located in Yamhill County wine country, in Oregon where we have lived and raised our family. We are the first breeder in the County and the third in the state to breed Australian Labradoodles. We live on the outskirts of McMinnville, Oregon.
I live in Seattle. Does the puppy have to be shipped to me?
No. We are happy to meet you half-way. We charge $100 for this service.
Why should I buy an Australian Labradoodle from you when there's a Labradoodle for sale in the paper that only costs $500?
Labradoodle for sale in the paper that only costs $500? The American-bred Labradoodle is a very different dog from the Australian Labradoodle. The founders of the Australian Labradoodle carefully infused other breeds at specific intervals to create this dog and this formula cannot be replicated by breeding poodle/lab and then breeding that cross with a Poodle. Some believe they can breed up to an Australian Labradoodle with this formula, but it's not the same dog. Not only do they have a different coat and conformation, but also a different temperament. That doesn't mean they're not a good dog. They're just different. You also have to take into account the quality of the breeding stock. It costs a lot more to purchase and import the genuine Australian Labradoodles from Australia than it does to use a Poodle and a Lab. The expense of health testing and two-year guarantees also factor into the cost of your Australian Labradoodle.
What is the life expectancy of an Australian Labradoodle?
The life expectancy is generally 12 to 15 years
Do Australian Labradoodles like water?
Most like the water, but introducing them to it at a young age makes all the difference. If you're introducing them to your pool, make sure they know the way out.